SOE Canada provides a wide range of electric control systems meeting customer's needs. The key strength in electrical and control system covers:
Electrical Design
Control System Design (PLC, DCS, HMI)
Process Control Engineering
Batch/Process Solutions
Simulation and Testing
The component and equipment are from the major suppliers of industrial control equipment such as ABB, Rockwell/Allen-Bradley, Siemens, GE, Cutler Hammer, Schneider, Westinghouse etc. to ensure our product with high standard.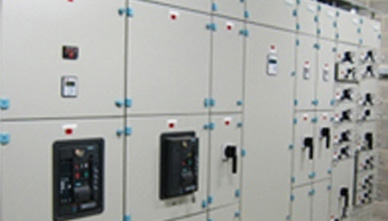 SHS Electric' panel building division, is one of the largest UL-listed shops in North America. The Panel Shop assembles, wires, and functionally tests complete industrial controls ranging from one-hole boxes and entire multi-panel systems, to complete self contained power control room.

The Panel Shop offers
Panel assembly, wiring, and testing built to exact drawings and bill of materials
Motor control panels
Machine wiring and site hook-up
Industrial engraving services - including legend plates, nameplates, and signs
Large inventory or wire, duct, IC, nuts, bolts, etc
We provide comprehensive, user-friendly marine and offshore control and monitoring systems, including:
Power generation and distribution
Power management
Central control station
Motor control centers
Distribution panels
Transformers
Drives, motors for elevators, winches
Data management systems
Alarm monitoring